NASP Leadership Represents its Members at 35th Annual J.P. Morgan Healthcare Conference
January 9-12, 2017
The annual J.P. Morgan Healthcare Conference is the largest and most informative healthcare investment symposium in the industry, bringing together industry leaders, emerging fast-growth companies, innovative technology creators, and members of the investment community.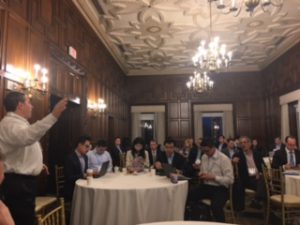 Well-represented at this conference are pharmaceutical manufacturers, health plans, Pharmacy Benefits Management (PBM) firms, specialty pharmacies, drug distribution companies, for-profit and not-for-profit hospitals and health systems, provider networks, pharmacy and healthcare services companies and retail and specialty pharmacies.
A panel of NASP members presented information about hot topics in Specialty Pharmacy to a group of over 20 attendees who represented various private equity firms interested in learning more about Specialty Pharmacy. Discussion topics included the value proposition of specialty pharmacy, the role of specialty pharmacy in the pharmacy channel, NASP position regarding network fees and the challenges and opportunities presented by specialty therapies and services.
NASP leadership attendees included:
Rebecca Shanahan, NASP President
Burt Zweigenhaft
Carmine DeNardo
Aaron Wiese
Phil Hagerman
Mike Ellis
Mark Montgomery
Jayson Slotnik
The leadership team at NASP will continue to attend national meetings throughout the year, to represent the interests of NASP members and stakeholders.