October 6-9, 2024
Gaylord Opryland Resort & Convention Center
Nashville, TN
The can't-miss specialty pharmacy event of the year. Each year, NASP members, industry thought leaders and health care veterans from around the country come together to shape and change the future of specialty pharmacy and the patient journey. Join us in interactive learning, sharing best practices, exploring potential partnership and synergies, and fostering connectivity in a personalized, energized, and interactive setting. Our annual meeting has it ALL and is unlike any other industry event!
Countdown to the NASP 2024 Annual Meeting & Expo!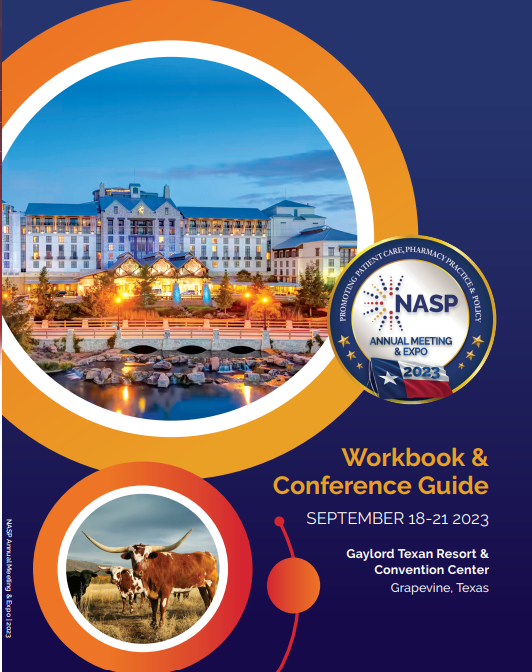 View the NASP 2023 Workbook and Conference Guide
Each year, our Workbook and Conference Guide is distributed via the official NASP Annual Meeting app and on-site to all conference attendees. In addition to information about the agenda and events, the Workbook is a handy guide to NASP's Board of Directors, Executive Committee, Specialty Pharmacy Certification Board, NASP staff and NASP's highly engaged Committees and much more.
Sponsor and Exhibit Options for all Investment Levels
The NASP Annual Meeting & Expo gives you access to specialty pharmacy industry decision makers, executives, and business owners. NASP offers various exhibitor and sponsorship opportunities for all investment levels.
We would like to extend our gratitude to all the sponsors and exhibitors for the NASP 2023 Annual Meeting & Expo!
Diamond Sponsors
AbbVie Medical Affairs
Accreditation Commission for Health Care
AIS Healthcare
AlyaCare
Amber Specialty Pharmacy
American Pharmacists Association
Amgen Medical
Asembia
Atlas Health
Authenticx
BeiGene
Biologics by McKesson
Boiron Inc.
Brightstar Care
Capital Wholesale Drug Co
CarepathRx Technology Solutions
Cervey
CitusHealth
Claritas Rx
Clearway Health
Cold Chain Technologies
CPS Solutions, LLC
Crawford Thomas Recruiting
Curascript SD
CVS Specialty
D2 Solutions
Dignio
Duane Morris LLP
ECRI + ISMP
Frier Levitt
Goodwin
HealthBeacon
HealthSpective
HealthWell Foundation
Hercules
Inmar Intelligence
Keycentrix
Keysource
Liberty Software
Loopback Analytics
Maxor National Pharmacy Services
MaxQ
McKesson
MedEdge Solutions
National Association of Boards of Pharmacy (NABP)
NHIA
NimbleRx
Noble International (Aptar Pharma, Inc)
Nordic Cold Chain Solutions
Omnicell
Onco360 Oncology Pharmacy
PAN Foundation
ParcelShield
Premier | Innovatix
PrimeRx
Prochant
Protega Pharmaceuticals, Inc.
Provista
RareMed Solutions
RBS Solutions
Real Value Rx
Rees Scientific
Salix Pharmaceuticals
Sectyr, LLC
Shields Health Solutions
Specialty Pharmacy Continuum
Spencer Health Solutions
STACK
Surescripts LLC
Takeda
TempAid
TraceLink
UCLA Health
URAC
UVA Health
Vanderbilt Health Pharmacy Solutions
VPL
Walmart
WeInfuse
WellSky
NASP 2024 Annual Meeting & Expo Agenda
In 2024, expert faculty and thought leaders will continue to provide comprehensive information and insights on the CORE – Clinical, Operational, Regulatory, and specialty Experience — aspects of specialty pharmacy. More information will be available soon.