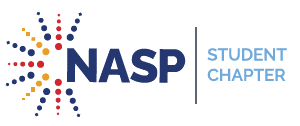 NASP's Student Chapter Program, the Student Association of Specialty Pharmacy provides opportunities for future pharmacists to extend their learning beyond the classroom. Chapter involvement enhances future practicing specialty pharmacists' awareness and knowledge through education, professional development, leadership opportunities, and networking.
We have more than 150 active and engaged student members, with active student chapters at many prominent universities including:
PHARM D PROGRAM ACCREDITATION-CALL FOR COMMENTS-STANDARDS 2025
The ACPE Board of Directors and Staff are beginning work on the next revision of the Accreditation Standards and Key Elements for the Professional Program in Pharmacy Leading to the Doctor of Pharmacy Degree. The current version ("Standards 2016") became effective July 1, 2016. The ACPE Board has approved a plan that will release the final version of the new standards in June 2024 with implementation planned on July 1, 2025. The new standards will be known as "Standards 2025." Please click here to review the comments NASP submitted.
NASP Ron Bookman Memorial Scholarship Program
The NASP Ron Bookman Memorial scholarship honors the memory of a great industry leader and influencer with unique qualities and values. Ron was a powerful mentor and he was committed to helping other find success and gratification in their life and careers. Four (4) non-renewable scholarships in the amount of $2,500 are awarded to students who possess similar qualities to Ron. Scholarship funds may be used for tuition, fees, and/or books.
Learn more about the Ron Bookman Memorial Scholarship Program and apply here.
Additional Resources
Want to learn more? Click here to start your Student Chapter
Interested in joining a student chapter? Contact us.