NASP 2020-2021 Patient Satisfaction Survey Program White Paper
The National Association of Specialty Pharmacy (NASP), in partnership with the SullivanLuallin Group (SLG), is pleased to share the results of the NASP 2020-2021 Patient Satisfaction Survey.
This program offers an independent, non-biased, validated industry gold standard performance measurement tool that our specialty pharmacy corporate members can use to continually improve patient engagement, patient care, and to benchmark their performance against other NASP member organizations. The goal and function of the survey is simply to improve the quality of the patient experience and journey and ultimately enhance clinical outcomes.
What We Measure
The survey is designed to measure key performance metrics affecting patient engagement including: patient access to medication and pharmacist, prescription fulfillment, pharmacy/staff performance, billing, overall satisfaction and willingness to refer friends or family members, and pertinent demographic information.
A special thank you to the NASP Customer Experience Committee for their assistance in the development and review of this white paper. You may download a copy, or view the flipbook of this document by clicking here.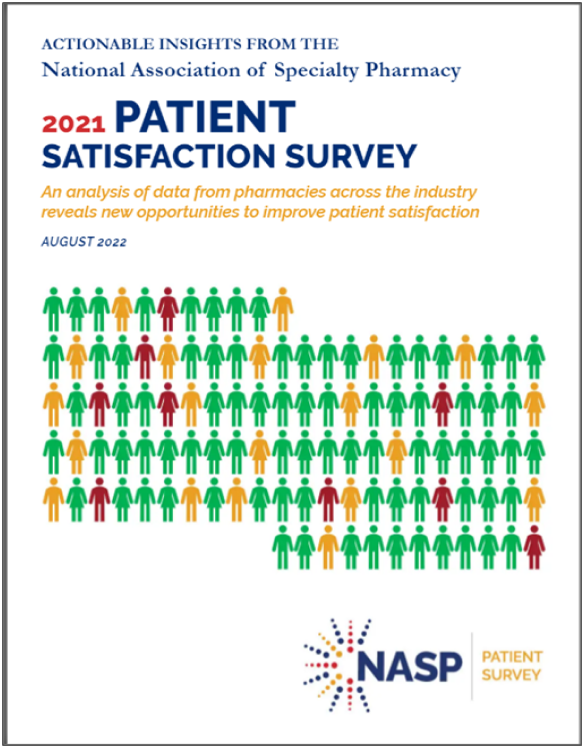 Coming in 2023
The NASP 2022 Patient Satisfaction Survey Program White Paper will be delivered and available no later than September, 2023.
As a reminder, one of the many member benefits offered to NASP corporate members at Nickel level and above is NASP Standard Patient Satisfaction Survey Program participation at no additional charge (a $1,695 value) OR NASP Enhanced Patient Satisfaction Survey Program* participation at NASP member pricing (includes a $1,695 NASP funded credit and additional savings over non-member pricing).
Contact NASP at info@NASPnet.org to participate in the Patient Satisfaction Survey Program.