Recertification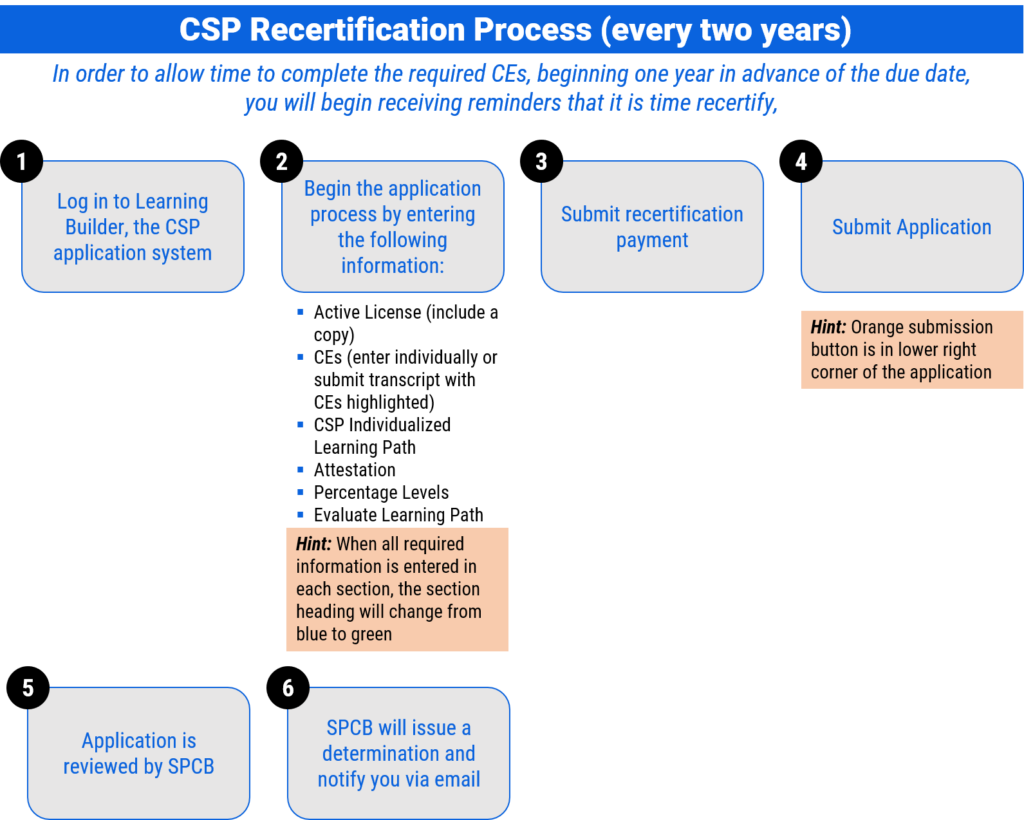 Certification is valid for a two-year period. The initial certification expiration date is indicated on each individual's certificate and is the last day of the month 2 years after the exam was passed. Subsequent expiration dates will be at 2-year intervals. Recertification applications and fees are due 45 days prior to the expiration of the CSP certification.
To apply for re-certification, login to your existing account. If you have any difficulty accessing your account, please contact csp@naspnet.org. Please review the handbook for complete information regarding recertification requirements.
SPCB supports the ongoing professional development of its certificants. The mandatory recertification process provides certificants with the opportunity to create an individualized professional development plan, demonstrate the reinforcement and expansion of their knowledge and skills, and retain their knowledge of current practice.
SPCB requires periodic recertification to promote professional development for specialty pharmacists to ensure that individuals who hold the CSP credential maintain an ongoing commitment to learning in their area(s) of practice to strengthen their knowledge and skills.
Recertification also provides encouragement to, and acknowledgement for, participation in ongoing professional development activities. To support this purpose, the recertification requirements require continuing education and professional development activities that enhance ongoing professional development, encourage opportunities for new learning, and provide a process for both planning and recording professional development achievements. As part of the recertification process, certificants plan disease state areas in which to focus their professional development activities, and once completed, evaluate these activities against the plan to reflect on how participation in continuing education has been/can be applied to their pharmacy practice.
The two-year time period established for recertification is based on both the scope of issues that face specialty pharmacists and the SPCB's acknowledgement that new practices, research, and information are introduced in the field with enough frequency that professional development activities should be conducted routinely so that certificants remain up to date with both current best practices and emerging knowledge.